Skip to Content
Chocolates for Compassion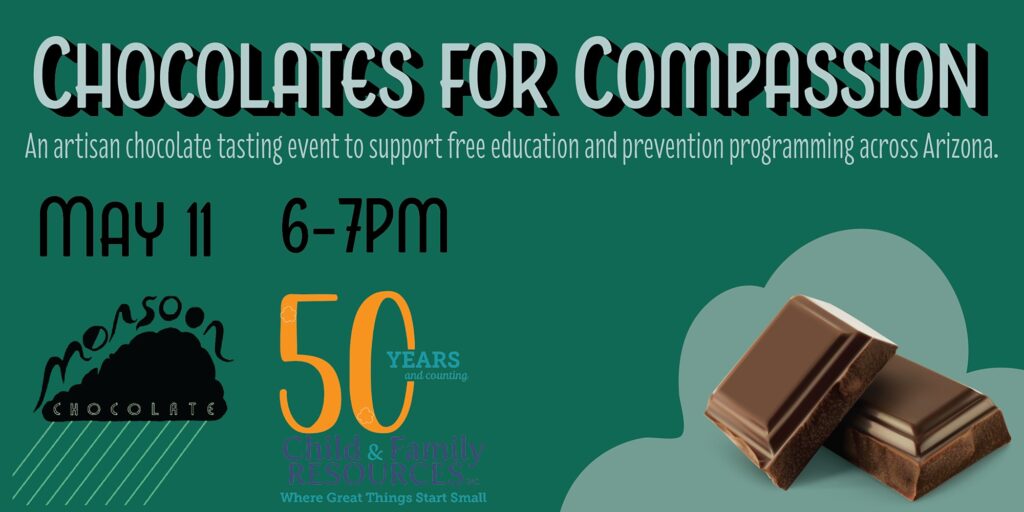 Join Child & Family Resources and Monsoon Chocolate as we discover new tastes and support children in your community!
Wednesday, May 11, 2022
6:00 PM – 7:00 PM
This event is the first of its kind and we're happy to eat sweets to help fund children's developmental programming this year!
This is a virtual event and will be held via Zoom for your convenience. Makes a great gift for friends, family, and loved ones!
What's in my chocolate box?
The tasting will consist of the following three bars:
-Ucayali Peru 60% Dark Milk Chocolate – Ucayali River Cacao is a central fermentary that works with nearly 400 cocoa farmers along the Ucayali River outside of the Peruvian city of Pucallpa. The region has a long and complex history of narco-trafficking and the presence of the Shining Path militant group. Ucayali River Cacao has partnered with USAID and Alianza Peru to offer a premium for wet cacao, giving local farmers access to an alternate market to cocaine. Tasting Notes: Chocolate Phosphate, Yogurt Covered Raisins, Apricot
-Esmeraldas Ecuador 75% Dark Chocolate – Costa Esmeraldas is a relatively young family-owned, single estate farm that is operated entirely by the Salazar family. Located in the Esmeraldas province of Ecuador, a region not traditionally known for fine flavor cacao, the farm has reclaimed land once occupied by cattle pastures. The Salazars have collaborated with cacao expert Dan O'Doherty on the farm design and the post harvest facility. Tasting Notes: Mocha, Turbinado Sugar, Floral Honey
-Bejofo Madagascar 80% Dark Chocolate – Bejofo Estate is an organic cacao orchard that is part of the larger Akesson Estate in northwest Madagascar's Sambirano valley. Managed by Bertil Akesson, who has specialized in growing fine cocoa, pepper, and other spices for many years, Bejofo Estate produces 300 tons of cocoa a year. The cocoa has been designated as certified "Heirloom" by the Heirloom Cacao Preservation Initiative (HCP). Tasting Notes: Red Fruit, Fudge, Pink Grapefruit
How does it work?
You can pick up your box before the event at our Tucson office, or we can ship directly to your door. Each chocolate box purchase comes with your exclusive online code for the event, so feel free to purchase for friends, family, and loved ones!
Once you make your purchase, you will receive a confirmation email with further instructions. Log in to the event using your exclusive code on May 11 at 6 pm. Adam, from Monsoon Chocolate and Sybil, from Child & Family Resources, will be there to greet you, taste yummy chocolate, and learn about what Child & Family Resources is up to in your neighborhood!
We build strong communities where children can reach their full potential