Skip to Content
Congratulations to Our 2015 MCAP Graduates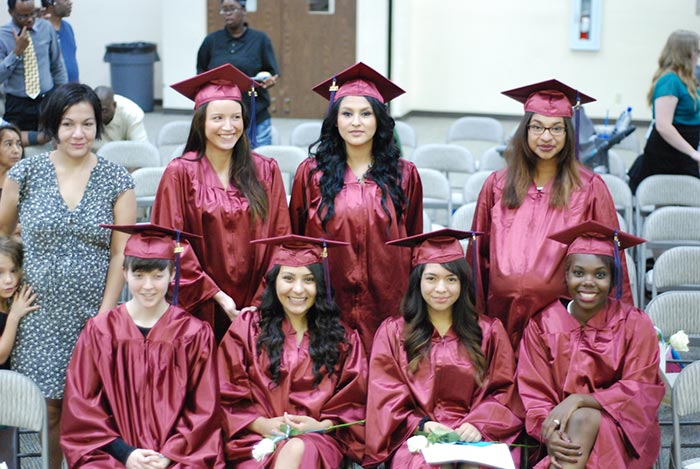 On Thursday, September 17th, 2015 a group of young mothers proudly moved the tassels on their graduation caps, marking a huge milestone in their lives: earning GEDs! In 2015, 15 young women passed their GEDs after working with us at Maricopa Center for Adolescent Parents. While not all of the graduates were able to attend the ceremony, the intimate event was a special occasion, full of flowers, tears of joy, cake, and pride.
Open to young mothers ages 16-21, MCAP is a comprehensive program providing GED preparation, Parenting Education, and Life Skills program. While students earn their degrees and plan for their future success, MCAP provides free, on-site child care in our licensed, nationally accredited childcare center.
MCAP is the reason many of these moms can earn the education they deserve. As one participant put it: "Not many of us have the income or resources to go to an ordinary GED prep class and pay for it. The fact that we're given free classes and free child care on-site makes me forever grateful. It gives us more of a chance at becoming something great in life. Without free classes and free child care, we would probably be the typical teen mom statistic who is a high school dropout with no job. What MCAP provides makes us want to make everyone proud. It also motivates us to become successful for our children."
Congratulations to the young women who worked so hard this year to graduate! Anna, Jennifer, Gabriella, Melissa, Shavon, Desirae, Naomi, Jennifer, Madison, Shannon, Maria, Marisol, Michelle, Grace, and Olivia!
Maricopa Center for Adolescent Parents is made possible by the generous support of Arizona Child Abuse Prevention License Plate Fund, First Things First Quality First Child Care Scholarships, Helena Harvey Endowment, Maine Foundation, Rio Salado College, Thunderbirds Charities, TJX Foundation, Valley Anesthesiology Foundation, and Walmart. We would like to thank our generous sponsors who helped make it a special day for our graduates: Wal-Mart – Richard Mart and Phil Barber; Fry's – Alan King, Dennis Nathan, David Lee, and Charles Shepard; and Safeway – Rick Albers and Marcia Beck.
We build strong communities where children can reach their full potential