Skip to Content
Healthy Families Program Helps New Parents Start on the Right Foot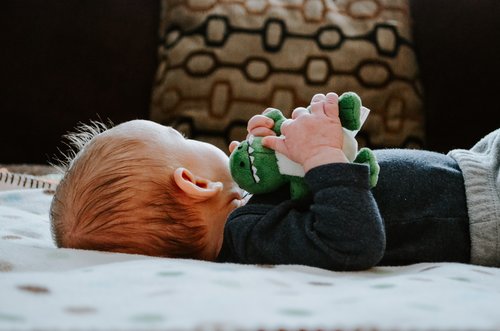 After the birth of their son, Hector and Claudia felt overwhelmed taking on the most important job they would ever have – parents . They knew it was important to ask for help. While still in the hospital with their newborn son, Emilio, a member of Child and Family Resources' Healthy Families program contacted them to offer that help. Hector and Claudia were instantly interested in learning more about the program. Soon, Healthy Families staff members went to their home to teach them about the program and they have been enroll in the program since September 2016.
Hector and Claudia's own words: "We are so grateful for having the opportunity to be part of this program because Healthy Families is helping us to strengthen our family and promote a healthy child outcome for our son, Emilio. One of the most important things that we have learned with this program is to understand the importance of our role as parents and the impact this role is going to cause in our child."
Family Support Specialist, Jessica, educated the family about the importance of integrating reading on a daily basis to help Emilio hear words that will later help him to build a rich vocabulary. Reading also invites Emilio to look, point, touch, and answer questions, all of which will promote social development and critical thinking skills. In addition, this will help Emilio develop and improve language skills by imitating sounds, recognizing pictures, and learning words. Jessica also provided them with information about how to talk to Emilio in a meaningful way to help him understand and make better choices. During their visits, the family is provided handouts with information on what to expect from Emilio at different age levels and how to work as a family to help him cope with all the different changes and challenges. They have learned how to work together to achieve goals that are important to Emilio's emotional and social development and ensure the family goals are measurable and meaningful.
 In Hector and Claudia's own words: "Our Family Support Specialist works with us to build confidence; she teaches us different activities in which involves our family to interact with Emilio in fun and meaningful ways, and are helping him develop important and critical life skills – skills that will create wonderful memories that last a lifetime. We definitely recommend this amazing program!"
We build strong communities where children can reach their full potential