Skip to Content
Mom's New Start With a Little Support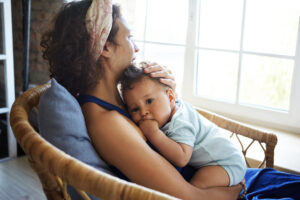 Tracy has had a rocky life. Tracy battled with addiction for years, which lead to her losing custody of her 3 children. Determined to get her children back, Tracy went through rehab successfully and started building her life again. Just as she was getting her feet under her, Tracy found out she was pregnant again. She was terrified she'd lose another child and was eager to find support. Tracy reached out to Child & Family Resources and learned about our Healthy Families Program. Tracy was eager to participate and happy to find support with parenting. 

Week after week, Tracy participated in the visits with her Family Support Specialist and used the information she learned to support her new baby boy's development. She learned strategies to cope with stress in healthy ways, learned how to access community support, and developed a strong bond with her baby.

Tracy worked hard to regain stability and was able to create a warm, nurturing environment. Tracy's hard work paid off when she regained custody of 2 of her other children. Tracy is now providing a loving, safe, and happy home for all of them. Tracy continues to meet weekly with her Family Support Specialist and enjoys the new sense of strength she has found. She is grateful for the second chance with her kids and is devoted to never remaking her previous mistakes.

All services provided by Child & Family Resources and Healthy Families are free to qualifying families. With locations all over the state of Arizona, we are easy to access Visit www.childfamilyresources.org/healthyfamilies to learn more.
We build strong communities where children can reach their full potential