Skip to Content
Child Care Resource & Referral Celebrates Child Care Providers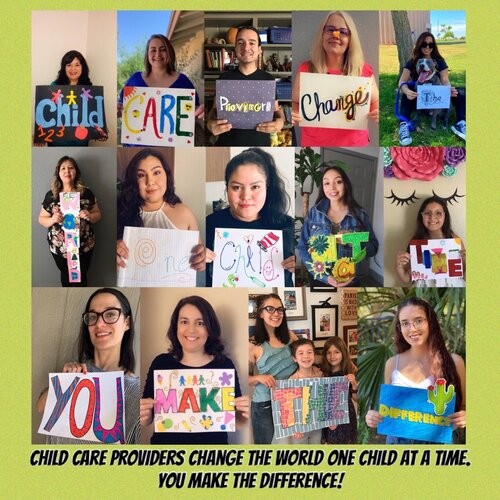 Child Care Resource and Referral (CCR&R) a program of Child & Family Resources celebrates Child Care Provider Appreciation Day! CFR recognizes the important work that childcare providers have in caring for this nation's most vulnerable, our children. Many childcare providers have been faced with the difficult decision to close their doors amid the COVID-19 pandemic or remain open in order to serve essential worker's needs.
CCR&R continues to work with childcare providers and parents during this challenging time to ensure essential workers have a quality child care option. Our Child Care Specialists are available via our Child Care Information Line to speak with anyone looking for child care information, resources, support, or tools. Our Specialists are knowledgeable about child care and are ready to answer any questions or address any concerns a family may have. A common question CCR&R is answering right now is if child care centers are open. Child care programs were not mandated to close. However, many programs closed as a result of school closures while others choose to or were forced to close due to low enrollment.
In March, Governor Doug Ducey announced the development and implementation of Arizona Enrichment Centers. The Governor's Office has partnered with Arizona Child Care Resource and Referral (CCR&R) to identify existing, licensed child care centers within the statewide network that have the capacity to serve children under 13. In addition, the Governor and Arizona Department of Economic Security, Child Care Administration created scholarships specifically for first responders, critical healthcare workers, and essential personnel to assist with the costs of child care.
Arizona is committed to making sure parents have access to the resources they need as we all work to get our state through the COVID-19 outbreak. The Arizona Enrichment Centers are a resource for all families, regardless of employer. It is essential that child care is available so that first responders and emergency teams can continue to go to work and serve the community during the state of emergency.
CCR&R is working with child care programs and working families to ensure they have the support needed to either become an enrichment center or apply for a DES Scholarship. The CCR&R team is proud to have worked with state leaders at the Governor's Office and DES Child Care Administration to ensure child care options are still available and to continue to be able to offer our vital services.
The Child Care Information Line (1.800.308.9000) is open Monday-Friday 8 am – 6 pm and Saturday 8 am-Noon. The Child Care Consumer Education Website is available 24/7 at www.azccrr.com.
We build strong communities where children can reach their full potential