Skip to Content
Child & Family Resources Recognized by the Alliance for Strong Families and Communities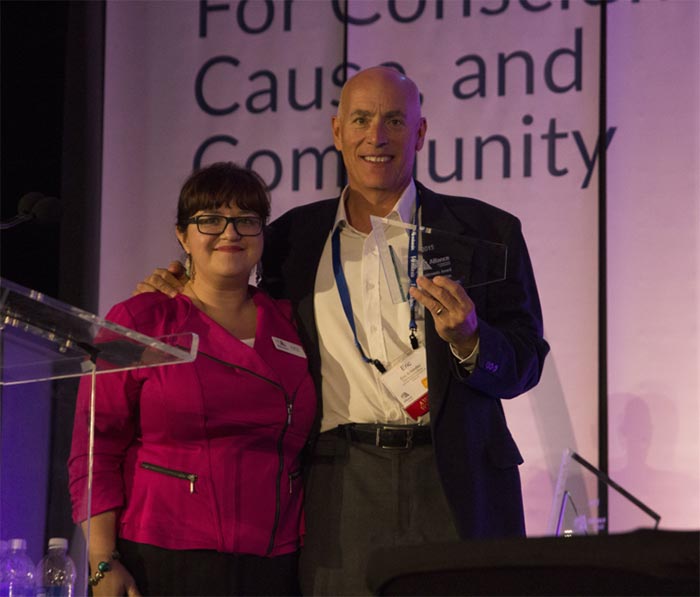 On Thursday, October 15th, President & C.E.O. Eric Schindler accepted the 2015 Alliance Commitments Award for Engaging All Voices for Child & Family Resources' program Youth Empowered for Success.
The Alliance for Strong Families and Communities is a national membership organization located in Washington, D.C., that is dedicated to achieving a vision of a healthy society and strong communities for all children, adults, and families. They are leading an effort to provide a blueprint for building paths to true community impact. In their own words, "Impact is not about what you do—how many people you serve, how long you've been in existence, or how far your service area reaches. It's about the positive change you achieve and whether or not it lasts."
Recognizing how many of our efforts and value aligned with the commitments of The Alliance, Child & Family Resources has signed on to grow and learn along all dimensions of service delivery to ensure that we are truly a High-Impact Organization.
We were very honored to be recognized by The Alliance for outstanding work in the Commitment for Engaging All Voices. We have long been deeply committed to inviting, appreciating, and advocating for the viewpoints of individuals who are unrepresented or underrepresented in most community, organizational, and policy settings. Perhaps nowhere is this commitment better exemplified than through the work of our Youth Empowered for Success (YES) program. YES is an initiative in Pima County that, for over a decade, has worked to mobilize the power of youth to create conditions for success in schools and communities. YES involves teams from area high schools in a leadership effort that benefits schools and neighborhoods by raising youth voices in messages about community, healthy living, achievement, and striving for an alcohol and drug-free teen life.
Yes Program Impacts Communities
YES, team members are also deeply involved in local neighborhood and community coalitions, bringing youth voice and leadership to the broader community. In partnership with a variety of coalitions, a Community Needs Assessment informs issues that are addressed. Again, working hand in hand with adults, a variety of projects and interventions, including community town hall meetings, are implemented in communities across Pima County. These projects and initiatives are focused at every level of the socio-ecological model, involving the youth, their families, the schools, and the local communities.
Recently, the Office of the Governor recognized the work of the YES program with a Volunteer Service Award for their involvement in and service to the community. Through these activities, youth develop a sense of competence, usefulness, power, and belonging. These serve as the basis of protective factors against youth engaging in risky behaviors and make it more likely that they will achieve in school, pursue higher education, demonstrate leadership, and become active, productive citizens in their communities.
Learn More!
Learn more about how to become involved with the YES Program.
Learn more about the Alliance for Strong Families and Communities' Commitment of High-Impact Organizations.
Visit the official award announcement here.
We build strong communities where children can reach their full potential