Skip to Content
New Mom Found Help in Hard Year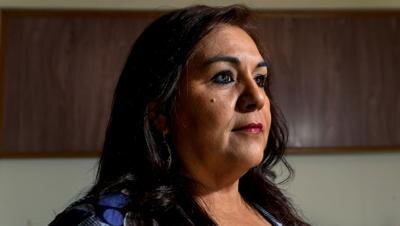 Written by Patty Machelor
Photo by Kelly Presnell / Arizona Daily Star
featured in the Arizona Daily Star's Article: Tucsonans talk about what they've learned and lost in a year of pandemic: Where We Are Now
Carolina Flores was newly single, and newly a mother, when COVID-19 started upending lives.
Flores had no idea how much the pandemic would complicate her situation, or how one decision she made back in March 2020 would help her and her son, Leonardo, make it through a tremendously difficult year.
Hardship first arrived before the pandemic, when her relationship with Leonardo's father ended a month before the baby was born on Feb. 25.
A nurse at Tucson Medical Center recognized Flores could use some extra support, so she urged the young mother to sign up for a program called Healthy Families Arizona.
In simplest terms, Healthy Families links new parents or caregivers with a caseworker who supports the family and provides education about child development.
Flores hesitated, but after a hard week home alone with a newborn — and with the pandemic beginning to dominate the news — Flores called for help.
That decision saved her, she said.
"If not for them, I don't know what would have happened. It's been such a blessing. So many things happened this last year, and they were there."
Usually, Healthy Families caseworkers visit with parents in person, but in the past year, they've had to rely mostly on phone calls.
For Flores, 29, the calls helped her understand Leonardo's behavior and patterns and taught the things she could do to foster his development.
Flores said she also received advice about jobs. She needed income, but regular work was hard to come by. With support from her caseworker, Maria Maldonado, Flores was able to figure out how to work at home while also caring for Leonardo.
"She was really understanding and gave me tips to help me be there for my baby through those difficult hours," said Flores, whose job in online video surveillance started at 2 a.m.
Steady work was a blessing, but by the fall it meant giving up her Medicaid benefits and food stamps. Maldonado helped her figure out her bills, and where to get extra food when she needed it.
"They got me hooked up to a bunch of resources where they could help me," Flores said.
Maldonado was also there to help her cope with grief: Flores lost both of her grandmothers to COVID-19.
It was in mid-December when Flores' maternal grandmother died from the virus, forcing her mother — who helps by watching the baby so Flores can sleep — to leave for Mexico to settle her own mother's affairs.
The timing was horrible. Flores and the baby both woke up with fevers a few days later.
"We'd seen his dad two days before we started feeling really bad," she said. She called Leonardo's father and learned he was also very sick.
Flores and the baby spent Christmas alone, sick with COVID-19.
"Maria dropped food on our porch for Christmas dinner," Flores said. "She dropped off diapers. She saved us."
Now, as the one-year anniversary of COVID-19 arrives and vaccinations are increasing, Flores said she is starting to feel a bit more optimistic about the future. But she's still sticking close to home with Leonardo, comforted by the fact Maldonado is just a phone call away.
"Healthy Families," she said, "is the best thing that could have happened to me this year."
— Patty Machelor
We build strong communities where children can reach their full potential