Skip to Content
Gabe Zimmerman Emerging Champion Award Winner 2023
Gabe Zimmerman Emerging Champion Award Winner
Olivia Fryer has begun to emerge as an up-and-coming community champion for children and families. She is inspirational, compassionate, and innovative in her efforts to make our community a better place for children and families.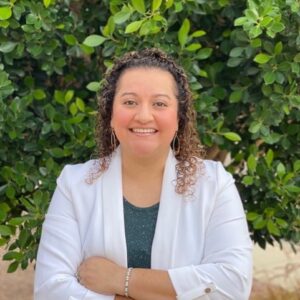 Olivia Fryer has lived in Arizona since 2006. She has been married for 15 years. Olivia and her husband are the proud parents of two children. Their oldest son is diagnosed with Autism and utilizes an augmentative communication device. Her youngest son is neurotypical and is his brother's best friend and supporter. Her sons are her pride and joy. Olivia loves spending time with her family and likes to travel, garden, read, and bake cookies, and is an avid Arizona Coyotes hockey fan.
Olivia holds a bachelor's degree in Psychology from the University of Akron. Prior to becoming Executive Director, Olivia was an Executive Committee Member of the Arizona Autism Network of the West Valley and was a board member of the Autism Society of Greater Phoenix for four years. Olivia is a certified BE SAFE instructor, Sibshops facilitator, Partners in Leadership graduate, and has participated in various community advisory boards. She has worked within the disability community since 2014 and previously worked with children in kinship foster care. Her previous employers include Southwest Human Development, Arizona Autism United and T.E.A.M. 4 Kids. Olivia is dedicated to helping the disability community at large.
About the Award
Gabe Zimmerman was a vibrant and committed member of the CFR Board of Directors in 2011 when he was tragically murdered during the January 8th shooting in Tucson that targeted Congresswoman Gabriel Giffords.  Gabe was trained as a social worker and was serving as the Director of Constituent Services  for the congresswoman at the time of the attack.  He  was the youngest member of the Board at that time, and had a promising career ahead of him.  This award thus honors a driven person early in their career, or a newer organization who has made a significant difference.
Call For Nominations & Award Ceremony
Award Winners have been selected for 2023. Please email development@cfraz.org for more information regarding future nominees.
Please join us on September 30 at our Program Round Up for the award ceremony!
We build strong communities where children can reach their full potential